Lower Zambezi Safari & Tour Accommodations
Lower Zambezi National Park is located on the southern end of Zambia and covers an area of 4092 square kilometers. The Zambezi Valley is a huge rift in the earth's crust. Over the millennia, mineral-rich volcanic soils deposited by the Zambezi have nurtured lush vegetation, while old river meanders and ox-bow lakes provide an added attraction for wildlife.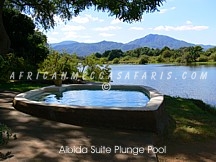 Read More +
ALBIDA SUITE AT CHONGWE RIVER CAMP
Safari Tier 1 Experience
Albida Suite At Chongwe River Camp opened in 2007. The Albida Suite designed by Neil Rocher is situated on the Chongwe and Zambezi confluence with a view of the escarpment to the North. The en-suite deluxe rooms are separate octagonal tents with gauze windows on 7 sides with inter-leading path ways and gardens. The bathrooms have a canvas roof but are open to the bush with a bath, double basins and double shower.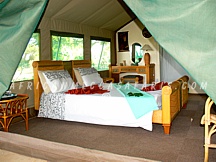 Read More +
ANA TREE LODGE
Safari Tier 3 Experience
Ana Tree Lodge offers value hospitality in a desolate yet scenic environment. It presents the visitor with a chance to experience the natural splendors of the African outback in total luxury and solitude. The animal lover will be rewarded with the finest opportunity to see various species of wildlife and birds. The lodge has eight twin-bedded luxury tents on solid concrete foundation. Each tent has ensuite toilets, showers and hand basins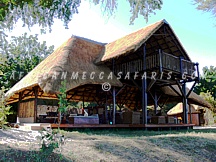 Read More +
CHIAWA CAMP
Safari Tier 1 Experience
Chiawa Camp is peacefully rested on the banks of the Zambezi River, under a grove of evergreen Mahogany trees holding the prime position in the heart of Zambia's Lower Zambezi. All tents share ample comforts, conveniences and unexpected luxuries such as lighting and charging facilities, hot & cold running water, king size beds, Egyptian cotton linens, his - hers washbasins, indoor - outdoor showers and ball claw baths.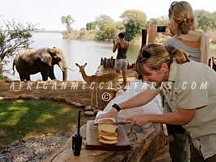 Read More +
CHONGWE RIVER CAMP
Safari Tier 2 Experience
Chongwe River Camp is situated on the confluence of the Chongwe and Zambezi River, directly opposite Mana Pools. The chalets are large, well appointed tents under thatch, with a luxury open air bathroom on suite. Situated under a canopy of Albida thorns and surrounded by cool lawns, they command fabulous
Read More +
CHONGWE RIVER HOUSE
Safari Tier 1 Experience
Chongwe River House is located at the end of a massive winterthorn grove, on the banks of the peaceful Chongwe River, a tributary of the Zambezi. The house is built of ferro walls and wild wood. Uniquely designed private house for up to eight guests with four large ensuite bedrooms, massive dining/sitting area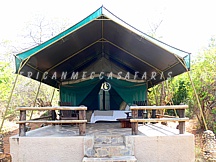 Read More +
KASAKA RIVER LODGE
Safari Tier 3 Experience
Kasaka River Lodge is situated in a natural bush environment with each chalet secluded among the native flora. The eight chalets are deluxe tented and tastefully decorated with an authentic African flavor. Each has an elegantly furnished en-suite bathroom with flush toilets and powerful heated showers.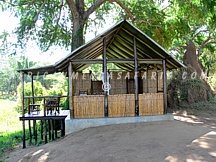 Read More +
OLD MONDORO BUSH CAMP
Safari Tier 2 Experience
Old Mondoro Bush Camp reflects the wild spirit that lives on in his descendants that still roam free in this unique part of Africa. Accommodating only eight guests and of traditional design, the concept of Old Mondoro is simple to step back from the ultra-luxurious lodges to more yesteryear and more authentic remote bush safari that concentrates on the wildlife and bush experience.
Read More +
ROYAL ZAMBEZI LODGE
Safari Tier 1 Experience
Royal Zambezi Lodge is located on the bank of the Zambezi at one of its broadest points. With 3km of river frontage, Royal Zambezi Lodge borders the Lower Zambezi Park and sits within a game management area. With lions roaring in the distance and hippos snorting to each other nearby, the luxurious thatched tents, elegant design and gourmet cuisine of the lodge
Read More +
SAUSAGE TREE CAMP
Safari Tier 1 Experience
Sausage Tree Camp is located on the banks of the Zambezi River, at the heart of the Lower Zambezi National Park, Zambia. This exclusive safari camp specializes in affording you the very best game viewing with traditional safari style. Accommodation are in six luxurious white Bedouin style tents, discreetly positioned along the riverbank.
Read More +
ZAMBEZI KULEFU CAMP
Safari Tier 1 Experience
Zambezi Kulefu Camp is located within the deep game-rich area of Lower Zambezi National Park. Secluded and intimate - this camp is settled comfortably in the deep shade of tall riverine trees. Zambezi Kulefu Camp offers seven spacious tented chalets with twin or double beds, mosquito nets and en-suite facilities, offering a relaxing view of the mighty Zambezi.
AFRICANMECCA REVIEWS
What are our Customers saying about our safari holidays?
On behalf of myself, my wife and my two adult daughters, I want to sincerely thank you and AfricanMecca Safaris for our fabulous recent safari. Everything you promised exceeded our expectations and was superb, which is saying a lot since this was our second trip, having had a wonderful Botswana Safari 10 years ago. Do not ever hesitate to use me as a reference.

Robert Schenkein - prVision Photography Studio - Colorado, United States

Chobe was delightful, less than half full. Sussi and Chuma, very nice, again only 13 people in all. All the game drives and river cruises were excellent. We had great weather. The ability to get really close is in inspiring. EVERYWHERE we went, the people were warm, helpful and charming. Thank you so much. We will be recommending your services to all.

Thomas Kelch - California, United States

Raza Visram at AfricanMecca planned the most amazing trip for my friend and I. I wanted to go to 4 countries in 15 days and he made it happen. It was an aggressive itinerary and Raza planned it so well, that the transitions were seamless. The last leg of the trip was Botswana for another Safari and we stayed at the most beautiful lodge. The excitement in seeing the animals so closely is indescribable.

Karin Alsdorf - New Jersey, United States

I had a wonderful trip to Africa and I would highly recommend your company.I have been to Africa many times and I have never had such wonderful service. The guide and safari vehicle were both great and all the lodges were outstanding. We will be going to Africa again the year after next and I assure you I will be contacting you. Thanks again for arranging such a great trip.

Ronald Price, President, Ron Price Motors Group - California, United States

Greetings to you and our most fervent thanks for a wonderful trip of Kenya, Zanzibar, South Africa & Victoria Falls. This was truly a perfect vacation. Thank you so much for all your arrangements. It was a trip filled with different kinds of adventures. We experienced and learned so much. Would highly recommend it to others who are interested in similar trips. Wishing you the very best.

Adrienne & Barrie Carter - Canada

Thank you for everything; we had an amazing honeymoon. Words really can't describe our experience, all we can really say was that it was the most amazing experience of our lives and we would recommend AfricanMecca to anyone. We hope to visit Africa again sometime next year! Thank you & all of your staff for an amazing & perfect honeymoon.

Rick Sagoo - London, United Kingdom